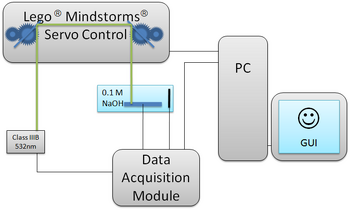 Electrionic Components
Edit
Electronically, the scanning station is comprised of three major components: the PC, Lego Mindstorms brick, and the Data Acquisition Module.
The PC controls the operation of the other two components via USB connectivity. The data acquisition module is a small home-brewed potentiostat[1] which is controlled by a microcontroller which itself controlled via a USB connection by LabVIEW software running on the PC. The Lego Mindstorms NXT brick is, internally, a LabView-compatible processor[2] which also interfaces with the computer via USB.
Lego Mindstorms NXT
Edit
The Lego Mindstorms NXT brick is responsible for controlling the position of the stepper motors[3], thereby controlling the angle of the mirrors, and thus the position of the laser spot.
Potentiostat
Edit
The potentiostat[1] is primarily responsible for detecting the current flow between the working and counter electrodes, either with or without a biasing voltage applied. The microcontroller on the potentiostat also controls the on/off cycle of the laser, so that it is active for only a short period while collecting current response for each 'pixel' of data.
The laser is the forward module from a Class IIIa[4] laser pointer, powered by 3v[5] supplied by the potentiostat. The momentary contact switch is permanently switched on through the use of a zip tie (see photo at right[6]), so that on/off control is determined by the presence or absence of a power source.
Software Components
Edit
ScanStation
Edit
Lego Drivers
Edit
Generic LabView Drivers
Edit
↑ 1.0 1.1

Is it really? Need input from somebody who knows definitively. Since there's no reference electrode, where's the reference voltage coming from?

↑

Or are they servos? Is there a difference?

↑

I just made this up, I don't have the scanning station with me, please correct this...

↑

Is this correct? I make this statement based on the fact that it normally runs on two nominally 1.5v AAA batteries

↑

Image Needed
Ad blocker interference detected!
Wikia is a free-to-use site that makes money from advertising. We have a modified experience for viewers using ad blockers

Wikia is not accessible if you've made further modifications. Remove the custom ad blocker rule(s) and the page will load as expected.